This autumn marks 20 years since the founding of Apprix. It should be clear without saying that over the two decades, eLe­arning has taken quite a leap forward. Jesse Jokinen, Apprix's founding member, has been with the company throughout its 20-year journey. In this blog post, he talks about the ground covered.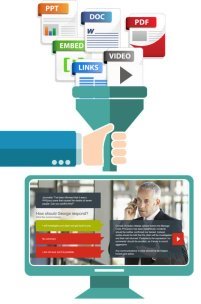 In the early 2000s, around the time Apprix was founded, learning envi­ron­ments mostly con­sisted of in-house web pages managed by HR depart­ments. The training content avai­lable was pri­marily made up of various PDF and PPT files. As such, the systems did not serve the needs very well, as it was not easy to make sure whether the trainees had actually learned and inter­na­lized the know­ledge. Moreover, there were no channels in the system allowing the trainees to voice their ideas and questions.
eLearning potential
Even at the time, we ack­now­ledged the potential of eLe­arning, but felt that the con­tents were not yet fun­c­tional. The con­tents already in use had simply been trans­ferred to the new learning envi­ron­ments and the changed cir­cumstances had not been con­si­dered at all. This is why Apprix was established – we wanted to offer better and higher quality eLe­arning con­tents, the key to making training inte­re­sting, even for otherwise boring subjects.
We went looking for improved attracti­veness of con­tents through gami­fi­cation. In gamified training courses, inclu­si­veness was seen as the best aspect, and inclusive training courses have become the core of our business. Inclu­si­veness can be uti­lised in all online training, gamified or otherwise.
Solutions also for external target groups
Rather soon, com­panies also expe­ri­enced the need for external target group training, such as sup­pliers, main­te­nance workers or cleaners staffing their sites. In this con­nection, user authen­ti­cation became necessary. Over time, several solu­tions have been deve­loped at Apprix for serving external target groups (such as reminders of expiring qua­li­fi­ca­tions), which can also be flexibly and easily included under indi­vidual training courses. This has become one of Apprix's strengths – fun­c­tional solu­tions for the training of external target groups as well.
Today, it is also very common that data regarding educa­tional per­for­mance are trans­ferred between dif­ferent systems (such as HR, LMS, and access control systems). Various integ­ra­tions have been carried out for a long time, but over the last few years, the demand for them has grown significantly.
At present, blended learning is on the rise
In addition to integ­ra­tions, another popular trend in modern online training is com­bining online and face-to-face training – so-called blended learning. For example, one of our customers has online training courses used for pro­vision of the­o­re­tical know­ledge. After these, an on-site training day follows, which can focus on practical matters, as all the par­ti­ci­pants have already acquired basic know­ledge on the topic.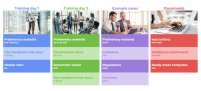 There is no single "right" way for online training arrangement; the situ­ation and needs determine the optimal approach in each spe­cific case. However, as a general tip, I would suggest inclusion of the trainee and always making use of practical examples in your training courses.
Towards the future
The pro­spects for eLe­arning seem quite pro­mising right now. The situ­ation in the world today has acce­le­rated adoption of various online training courses and their popu­larity in the cor­porate envi­ronment seems to grow even further. I believe that in the future, orga­ni­sa­tions will learn to use online training even more diversely and expe­di­ently. Here at Apprix, we are always glad to support your orga­ni­sation, based on our twenty years of experience.
Author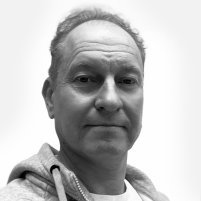 Jesse Jokinen
Managing Partner
Apprix Oy
tel. +358 40 501 9150
jesse.jokinen (a) apprix​.fi